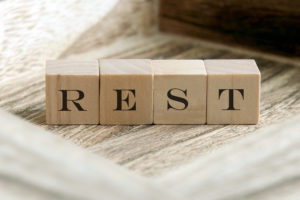 Working in Ministry is such a great privilege with some wonderful moments. There are many opportunities to share God's love with others and sit with people in the good and hard times of life. It can also be exhausting, and often trying to take your annual leave can be a challenge to find the best time to fit it in. I've found that when I take leave I often go away somewhere and have the best intentions for a relaxing break but often I end up coming back just as exhausted. I've heard it isn't just me who does this. Most of us want to use our holidays to go somewhere nice or fun and often have a great time but we 'jam pack' our holidays with activities with little or no rest time. When I get back from holidays I often feel like I need another holiday and end up in a bit of a cycle of living from holiday to holiday without somehow having a good rest.
I decided to do something different this last holiday and I finally came back feeling like my head and heart were in a great place emotionally and spiritually. This time I decided to take a week off and spend 4 nights of this time by myself away from home. I packed a bunch of books I had been meaning to read but never really had the time for, some healthy food and tea and went away to a quiet place with a lovely view. I turned my phone to flight mode and left it in my room most of the time and spent some time being quiet for an extended period of time.
It seems when life gets really busy we never really have time to actually stop and be quiet. This was part of my reasoning behind doing a holiday that was really different. Taking time to be quiet and listen to God was really one of the highlights of my time away. It gave me the space to think through some things that I had been avoiding and helped me to really focus on my relationship with God. I've always read verses like Luke 5:16 "But Jesus often withdrew to lonely places and prayed." and thought 'I wish I could do the same.' So this was my attempt to do just this.
If we are disciples of Jesus we should be looking to his example of living and following it. If Jesus in his constantly busy time of ministry still ensured that he took time out to be with his Father I think this means we should too.
If you are like me, the idea of solitude and silence might make you a little worried and possibly break out in a bit of a sweat. I can now speak from experience that while being quiet and spending time in prayer can be hard work it is really a valuable thing to do and isn't as hard as it might seem.
So here are a few tips I have for taking a break away:
Pick a place that will help you relax. If you know that being in the bush will cause you anxiety, then don't go there but go somewhere that will help you to relax.
Let a couple of people know where you will be in case people need to get in contact with you in an emergency.
Plan out some food. If you have a kitchen where you are staying bring all of the food you need. Or go somewhere that caters for you.
Write out one or two goals for your time away. Is there something you are struggling with and want to spend time praying about? Do you want to spend time re-connecting with God?
Plan to spend your time productively to help meet these goals. Plan out a basic structure of your day. This doesn't need to master your time but is helpful to have a structure to your time.
Once you arrive at your accommodation, let people know you are going to be off line and let your emergency contacts know you have arrived.
On your first day look at your goals and take some time to stop, be still, and calm yourself in order to be ready.
Give yourself time to be quiet. Don't spend all of your time reading but actually allow time to be quiet and meditate on what you have been reading.
But, What do you do when you get back? It's great and helpful to get away but how do you let that time impact the rest of your life? I think we need to build a culture and habit of blocking time out to focus on withdrawing for a short time to pray and be with our heavenly Father. What works well for one person might not be enough or too often for another. My suggestion is to work out a schedule that works well for you, your family and your ministry. For me the plan is to book out a day every 6 weeks to turn my phone off and spend time focusing on my relationship with God as well as blocking out uninterrupted time each day for reading my Bible and meditating on what I have read, as well as talking with God about what is going on in life. The important thing for each of us is allowing time to rest in God and who he is, not on all of the things we need to do.
 "But Jesus often withdrew to lonely places and prayed." – Luke 5:16
Emily Andrews
Business & Planning Manager