A couple of weeks ago, my Dad asked me if I could tell him again what we'll be doing in QLD with Church2Church. My guess is you might share his question, so I thought I'd use this post to try to explain what Kath and I will be doing up north and beyond for the next five years.
Let me start with a story from over thirty years ago.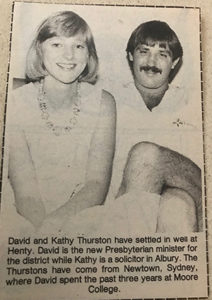 Two young city kids were appointed to Henty, to be the 'sharp end' of the ministry 'team' there. First of all, we had to look Henty up on a map so we could go and have a look at where we were going to live and minister. Henty, was then, a small town of 1,100 in the Riverina of NSW, halfway between Wagga and Albury – a parish with seven preaching centres. Two kids from the city hit the bush, or rather, the bush hit them. Let me say from the very beginning, we had a great time at Henty, we also had our first two children there. But it wasn't easy at times and a lot of ministry was making things up as we went along. Sometimes I wondered if we would keep our heads above water despite, a loving congregation and some good friends we made along the way. I went from preaching a sermon once a month as a student to preaching a new sermon, three times and sometimes four times on a Sunday. I think one of the biggest challenges was how to prioritise and organise my time without someone telling me what to do and when to do it.
We did more than survive in ministry in the end, but there were some pretty tough times when it was touch and go. Ministry is not easy, very few things that matter are but being the minister of a church can be a tough job as well as a great privilege – Paul certainly thought so. There were some from our year at Theological College who were casualties of the 'sink or swim' mentality who ultimately moved out of ministry. I wonder what might have happened if there had been more support?
I heard the story of an older Anglican minister who gave some advice to young Anglican candidates for the ministry; he told them, 'When you get in trouble and call for help, be assured, the cavalry will not come!'.
So here are some things we did that made a difference to our time in Henty:
Friends (team)
We had friends from our time in theological college who were appointed to nearby parishes. We would regularly ring up and share our preaching and pastoral ideas as well as our troubles. Once a month our families got together for a 'sleep over' as well as a debrief and pray. Being part of a prayerful support network is fundamental to healthy ministry. Just think about the way Paul describes his prayers for the churches.
Resources
I and another ministry friend wrote and asked other people in ministry throughout Australia for resources and policies they used in ministry. We gathered a wide range of material some of which was very useful and some, which was less so, but overall it was helpful to see what others were doing and think through the issues.
Wise Council
The group from college, got together and spent some time with an experienced minister nearby who did some workshops on preaching, but who would also take phone calls about challenges I was facing and give some wise and timely ministry advice.
The denominations are doing better now than back then but they need to as well. The challenges that face ministry couples, who go to pastor churches are much greater than in the 1980's.
Our most precious possessions are:
a. the gospel of Christ,
b. our congregations and
c. our ministry couples.
Healthy ministry, that produces healthy congregations and Gospel communities, will be the greatest enticement to suspicious non-believers to listen to the gospel of Christ.
So that's what Kath and I and the team of Church2Church are aiming to do in the new and challenging post-Christian culture we find ourselves in: work in partnership with God, ministry couples, churches and denominational bodies to support, equip and develop healthy ministries and churches that live and tell the Gospel that Jesus is King. Part of that will involve sharing resources and ideas but it will also involve mentoring and coaching as well as thinking through the strategic challenges that specific churches face with the resources that they have.
Kath and I are excited to be devoting our time and energy to this new support ministry that aims at growing healthy vibrant churches that shares the life of God with Christ with their surrounding community and word to the Glory of King Jesus.
Dave Thurston
Church2Church Mentor Consultant