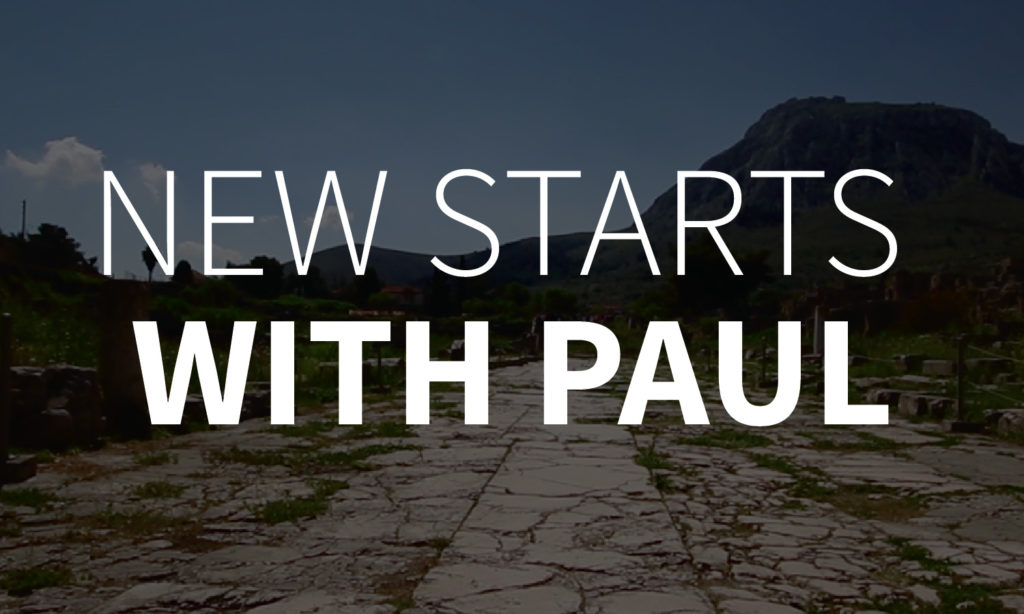 A new start
At the very end of 2017, Kath and I left our home and our family and drove one thousand kilometres to live in a new city, Brisbane, to start a new ministry called Church2Church at Creek Road Presbyterian Church. We left the loved, the familiar, the known, and have had to learn a new context with different rules (Queenslanders, unnervingly for a New South Welshman are allowed to do U-turns at some intersections), a new climate, and a different culture. I'm not complaining, but just a simple thing like going to Officeworks has become a challenge that requires the GPS and patience. But there are the compensations that are delightful: I get to work next to Kath nearly every day and I'm part of a great team.
One of the biggest challenges for me personally, is that our new ministry doesn't involve preaching. For the last thirty-two years the weekly wrestling with the Scriptures, so I can explain and apply them to a known and loved group of people, has disappeared. Lots of people asked me was I going to miss this weekly 'means of grace' that was as much for myself as it was for the people I spoke to. I realised I needed to be committed to something that kept me in the Scriptures, and required not only discipline, but might shape my own ministry and the ministries of those I mentor. I decided to study in depth the life and teaching of the apostle Paul.
Christendom is dead
The 'Marriage Equality' debate in Australia at the end of 2017, made it clear that 'Christendom' really was dead. Christendom is the place of privilege the Church has occupied in Western Civilisation for the last sixteen hundred years. Christendom assumes that Christian truths should form the very fabric of our culture-shaping conversations.
It wasn't the outcome of the voluntary plebiscite that was the killer but the process; Christianity and the Church were dismissed as irrelevant to the conversation, such as it was.
We find ourselves in a very different place to what we are used to. Gone are the givens and the knowns; in their place we are confronted with, at best, puzzlement, and at worst, disdain.
A new place
With the demise of Christendom, it's as if we have found ourselves in a foreign place without changing our address. We find ourselves in a place with different rules, a different social climate, and culture foreign to our expectations. As God's people, we will need to learn new lessons. Old and familiar routines will be met with disorientation, but there is the opportunity in this 'brave new world' culture for delight and new opportunities for ministry and service to our God.
But who can help us and inspire us to adopt new disciplines? I believe the apostle Paul is our best guide to the task of learning to live well as the people of God in a new age, with vision and integrity. We need Paul, someone who was a master of proclaiming the true Jesus and the true Gospel in multiple cultural contexts.
Paul
One great inducement to doing this is the apostle himself. Here are some quotes from Paul about learning from his example. I've placed them in the order in which they were probably written:
For you, yourselves know how you ought to follow our example. We were not idle when we were with you, nor did we eat anyone's food without paying for it. On the contrary, we worked night and day, labouring and toiling so that we would not be a burden to any of you.  We did this, not because we do not have the right to such help, but in order to offer ourselves as a model for you to imitate. – 1 Thessalonians 3:7-9

Therefore, I urge you to imitate me.  For this reason, I have sent to you Timothy, my son whom I love, who is faithful in the Lord. He will remind you of my way of life in Christ Jesus, which agrees with what I teach everywhere in every church. – 1 Corinthians 4:16-17

So whether you eat or drink or whatever you do, do it all for the glory of God. Do not cause anyone to stumble, whether Jews, Greeks or the church of God – even as I try to please everyone in every way. For I am not seeking my own good but the good of many, so that they may be saved. Follow my example, as I follow the example of Christ. – 1 Corinthians 10:31-11:1

All of us, then, who are mature should take such a view of things. And if on some point you think differently, that too God will make clear to you. Only let us live up to what we have already attained. Join together in following my example, brothers and sisters, and just as you have us as a model, keep your eyes on those who live as we do. – Philippians 3:15-17

Finally, brothers and sisters, whatever is true, whatever is noble, whatever is right, whatever is pure, whatever is lovely, whatever is admirable – if anything is excellent or praiseworthy – think about such things. Whatever you have learned or received or heard from me or seen in me – put it into practice. And the God of peace will be with you. – Philippians 4:8-9
The danger in collecting these verses into one place is that it's possible to wonder if Paul was a narcissist, a lover of self. In the Greek myth, the beautiful and flawless Narcissus does not consider any worthy of his love. One day seeing his reflection in a forest pool he falls in love with himself and eventually dies. Paul is saved from narcissism because he is 'in love with Christ' (Eph.6:24 Grace to all who love our Lord Jesus Christ with an undying love.) Which is clearly reflected in the quote from 1 Corinthians 11:1, Follow my example, as I follow the example of Christ. Paul's gaze is never directed to the self who has been crucified with Christ, but to the risen Lord who has conquered death.
From early in his ministry to near the very end, Paul urged his fellow believers to imitate aspects of his life. In our last passage, Philippians 4:9, Paul says, "Whatever, you have learned or received or heard from me, or seen in me – put it into practice."
What we have learned or received
The training received in theological colleges has equipped ministers to explain and at times apply, what we have 'received or heard' of Paul in his correspondence. This has been a great blessing, but as we watch 'Christendom' receding in our rear-view-mirror, we need to pay much more attention to 'whatever…you have …seen in me.' The practices and priorities of Paul gleaned from his thirteen letters and Acts will be the subject of these posts.
At theological college at Ashfield in the 1980's, we had a subject called PPP: Presbyterian, Polity, and Practices. It was helpful in how to run meetings in the predictable church in a predictable culture. It majored on how to not make dumb mistakes in the courts of the church but it was useless beyond the borders of Christendom. We need a new PPP: Paul's Practices and Priorities.
In a new context with challenges, and the missionary discipline of bridging two cultures with clarity, courage, and in the name of Christ, there is no one better.
I think Rodney Stark is nearly right when he says about Paul in The Cities of God:
"It should be remembered that Paul was only one of many travelling professional missionaries, to say nothing of the rank and file missionaries who circulated from city to city. Indeed, Paul may have been far more important as a trainer, organizer and motivator of missionaries than as an actual founder of congregations." p134
I think Paul was a great missionary! Luke captures for us his brilliance in Athens and Ephesus, but he has hit the nail on the head when he describes Paul's considerable gifting in training, organising and motivating.
I can't think of anyone better as a guide outside of the known waters of Christendom than the Apostle who planted churches, colonies of the kingdom before the establishment of Christendom.
Dave Thurston
Church2Church Coaching & Mentoring Consultant